1. The Tale of the Oedo Cave Event
2. Lara Croft Collaboration
3. Pet Event NEW
4. Upcoming Schedule for Time Attack Grand Prix and Time Attack GP Excavation Events NEW
5. Login Bonus Campaign
6. Tunnel of Legend -- Increased Excavation Rate Campaign

1. The Tale of the Oedo Cave Event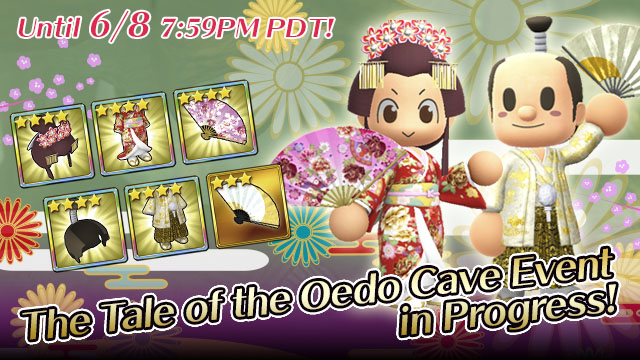 Each day you can play different stages featuring the Tale of the Oedo Cave.
■

Items
Pickup Event Items
Feudal Hair, Feudal Haori and Hakama, Feudal Fan (for Male)
Tunnel of Legend Items
Princess Hairstyle, Princess Kimono, Princess Fan (Female)
From May 11th 2016 8:00PM to June 8th 2016 7:59PM (PDT)
■ Item Details: click here
2. Lara Croft Collaboration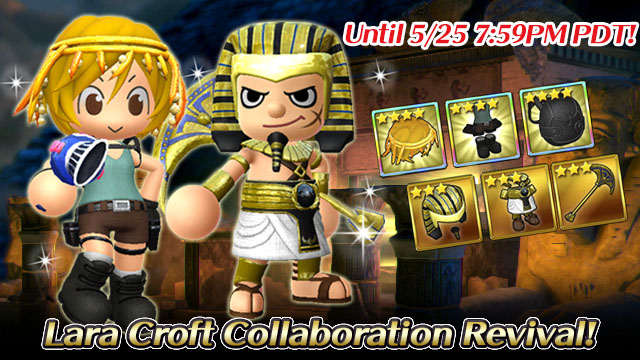 We are reviving the Collaboration with Lara Croft!
Special Collaboration items are available in the special event cave at Doggie Digging!
Also, these items are featured as pick-up items within certain stages which you will be able to see from the World Map.
■

Dates
April 27th 2016 8:00PM to May 25th 2016 7:59AM (PDT)
■ Item Details: click here
3. Pet Event
Pet events are on weekly with a different pet each week.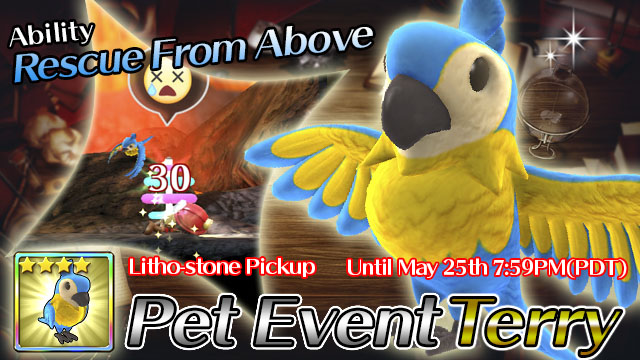 During the event period, each corresponding pet will also be available through Doggie Digging!
■

Pet Event Dates
May 18th 2016 8:00PM to May 25th 7:59PM (PDT) Terry
■ Pet Details: click here
4. Upcoming Schedule for Time Attack Grand Prix and Time Attack GP Excavation Events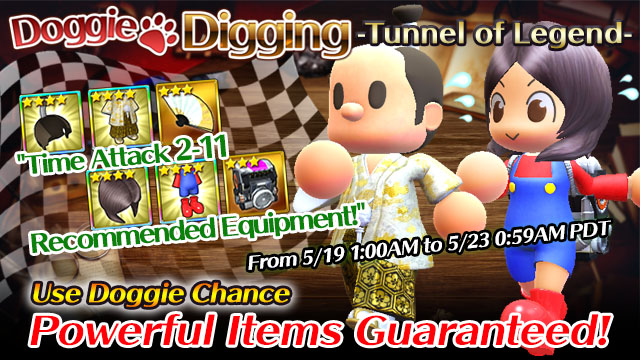 During the World Grand Prix event, use 10 cakes in the Tunnel of Legend at Doggie Digging to activate Doggie Chance.
You are guaranteed to win one item that may have an ability useful for improving your time on the GP stage in session!
Improve your items and beat your best time!
■ Recommended Item Details: click here
■

Dates
May 19th 2016 1:00AM to May 23rd 2016 0:59AM (PDT)
5. Login Bonus Campaign
Login Bonus celebrating over 1 million downloads worldwide!


■

2nd Round
From May 4th 2016 8:00PM to May 22nd 2016 7:59PM (PDT)
6. Tunnel of Legend -- Increased Excavation Rate Campaign
For a limited time, you will have an increased chance of obtaining items.
Use one or more cakes to obtain great items!
■

Dates
May 11th 2016 8:00PM to May 25th 2016 7:59AM (PDT)