1. Final Fantasy Collaboration
2. Million Arthur Collaboration
3. Pet Event
4.Upcoming Schedule for Time Attack GP and Time Attack Grand Prix Excavation Events
5. Login Bonus Campaign
6. Tunnel of Legend -- Increased Excavation Rate Campaign
1. Final Fantasy Collaboration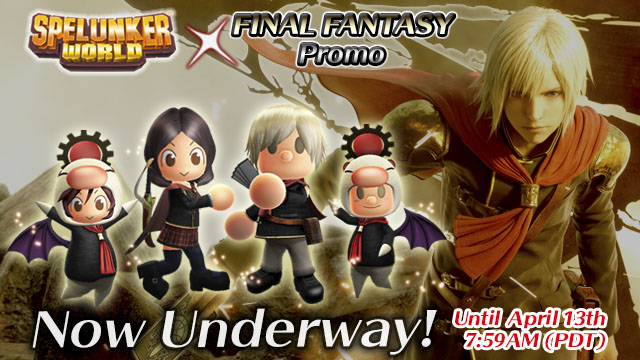 Rem items are available from the Tunnel of Legend until March 30th.
■ Date March 17th 2016 10:00PM to April 13th 2016 7:59 (PDT)
■ Item Details: click here
2. Million Arthur Collaboration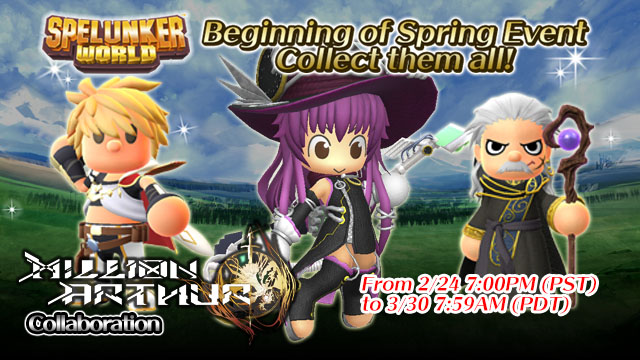 Another event we are featuring is the Million Arthur Collaboration.
Special collaboration items are available in the special event cave at Doggie Digging!
Stage pickups are also available for each character.
Available pick-up stages are shown on the World Map.
■ Million Arthur Collaboration Dates
From February 24th 7:00PM to March 30th 7:59AM (PDT)
Pick-up Stage Dates
March 19th 8:00AM to March 25th 7:59AM (PDT) Arthur
March 25th 8:00AM to March 30th 7:59AM (PDT) Merlin
■ Item Details: click here
3. Pet Event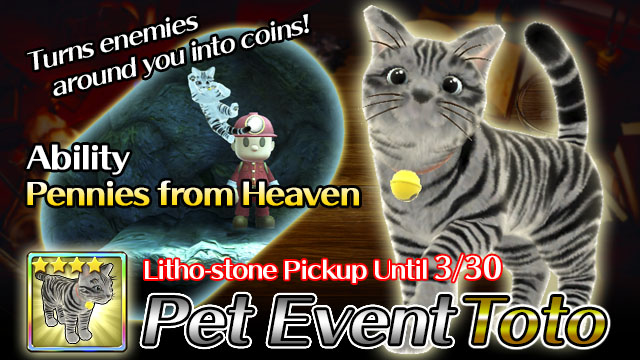 New pets are available! Pet events are on weekly with a different pet each week.
During the event period, each corresponding pet will also be available through Doggie Digging.
■Pet Event Dates
March 23rd 2016 8:00AM to March 30th 2016 7:59AM (PDT) Toto *NEW*
March 30th 2016 8:00AM to April 6th 2016 7:59AM (PDT) Mary *NEW*
■ Pet Details: click here
4.Upcoming Schedule for Time Attack GP and Time Attack Grand Prix Excavation Events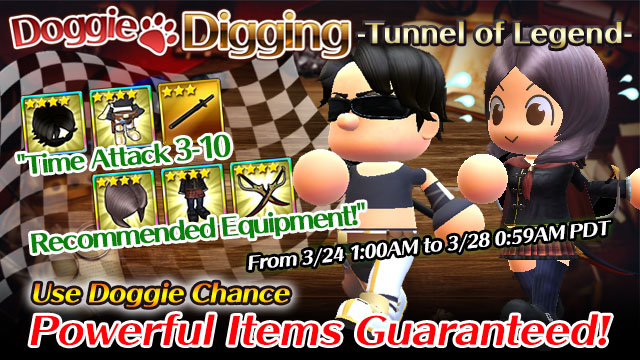 Only hidden items that appear while playing Time Attack World GP are now Red Potion.
During the World Grand Prix event, use 10 cakes in the Tunnel of Legend at Doggie Digging to activate Doggie Chance.
You are guaranteed to win one item that may have an ability useful for improving your time on the GP stage in session!
Improve your items and beat your best time!
■ Recommended Item Details: click here
Dates
March 24th 2016 1:00AM to March 28th 2016 12:59AM (PDT)
5. Login Bonus Campaign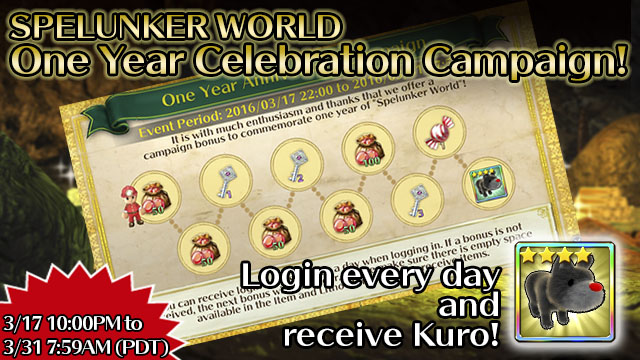 We have a special login bonus from 3/16.
This time, we are celebrating our One Year Anniversary and 900K Total Downloads with Kuro as the bonus for the 10th login!
Dates
March 17th 2016 10:00PM to March 31st 2016 7:59AM (PDT)
6. Tunnel of Legend -- Increased Excavation Rate Campaign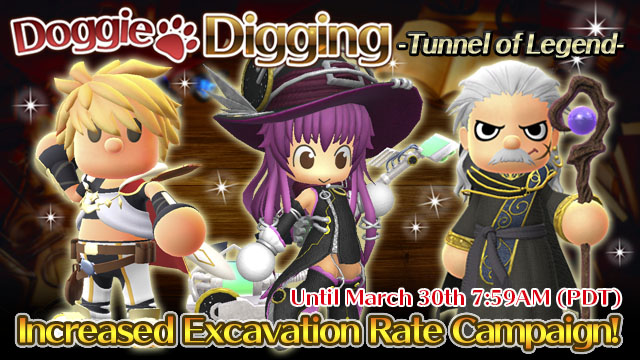 For a limited time, you will have an increased chance of obtaining items.
Use one or more cakes to obtain great items!
Dates
Million Arthur March 17th 2016 10:00PM to March 30th 2016 7:59AM (PDT)