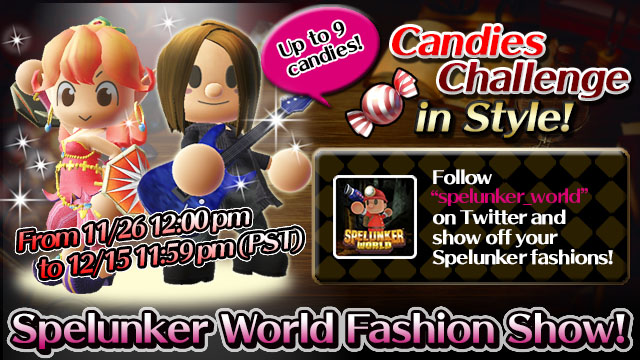 Please follow Spelunker World and then please tweet a picture out with your message and hashtag.
How to participate?
1. Follow Spelunker World official account
https://twitter.com/spelunker_world
2. Show off your Spelunker fashion with a picture, tweet with your message, and the hashtag #SpelunkerWorld
For example: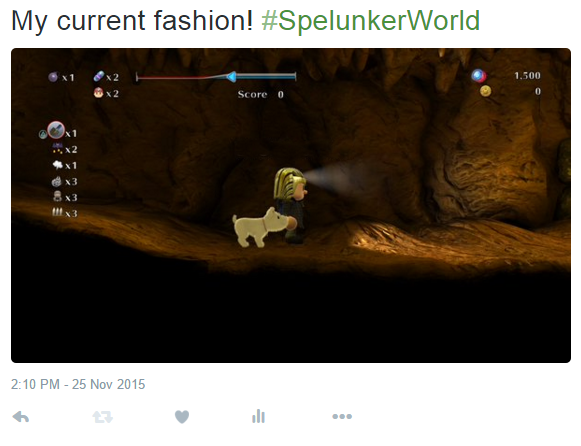 Event Period
November 26th 12:00PM to December 15th 11:59PM (PST)
Rewards
1. At 3000 followers: 3 candies
2. At 6000 followers: 3 additional candies
3. At 100 qualifying images posted: 3 candies
Rewards will be provided between December 20 and December 25.
How to Take a Screenshot
Take a screenshot showing off your Spelunker fashion during game play! Screenshots taken by camera and mobile phones are also acceptable.
How to take a screenshot from PS4
1. Press Share button
2. Select Upload Screenshot
3. Select Twitter
Disclosures
- We may feature your image for promotion.
- If you prefer not to disclose your PSN ID, it is acceptable to modify an image to edit out your PSN ID.
- In the following cases, we may disqualify your image at our discretion:
When you violate terms of use for Spelunker World.
When your image is obscene, inappropriate or offensive.
Your image infringes the rights of a third-party.
For any other reason that we deem your image is inappropriate for the campaign.
Looking forward seeing your submissions!